Almond Butter & Fruits
Strawberry & Acaï berries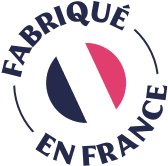 Our Strawberry Acai Almond butter is a delicious organic and vegan recipe that subtly combines the sweetness of almonds, the exotic flavor of acai and the freshness of strawberries. Rich in unsaturated fatty acids, vitamins E and B2, phosphorus, magnesium and potassium, it will ideally accompany breakfast as well as snacks for young and old !
Almond - Strawberry - Acai Berries
AVERAGE NUTRITIONAL VALUES PER 100G
Ingrédients :
Almond* , strawberry* powder, açai*, natural flavor*.
*From organic farming.
Possible traces of others nuts, sesame and peanuts.