Sans gluten / Sans lactose / Vegan / Végétarien
Maki with coco almond butter by Beautyfood Cooking
0 personne aime cette recette personnes aiment cette recette
Conseils de préparation
Crepe:
50 g wheat flour type 55

15 g cornstarch

10 cl non drairy drink Amandina

5 cl of water

1 tsp of neutral vegetable oil

1 pinch of salt

10 g dark chocolate dessert
Inside:
2 bananas 

2 tbsp coconut almond butter 

2 pears 

50 g buckwheat 

60 g sugar 

40 cl of water
Crepe dough : 
Combine cornstarch with water in a bowl. 

Place the flour with the salt in a bowl, then add the water + cornstarch, the Amandina drink and the oil. 

Mix until obtain a smooth dough without lumps. 

Melt the chocolate in a double boiler (or in the microwave) 

When melted, add a little crepe dough and mix.  

In a hot and lightly oiled pan, cook the crepe dough.

Then cover crepe dough and cook each side for a few minutes like a classic pancake. 

Repeat for the second pancake.
Garnish : 
Peel the pears, remove the seeds and cut into small pieces. 

Then put the buckwheat, water, sugar and pears in a small saucepan. 

Bring to a boil and cook over low heat for 30 minutes.

Increase the heat and stir to remove the excess water and obtain like a caramel.

Let cool down before refrigerating for 30 minutes.
For mounting :
Spread the filling over the entire crepe. 

Place a peeled banana on the edge and roll the crepe around.

Cut slices with knife and repeat for the second crepe.

Serve with melted chocolate for a "sauce".

Notes: - You can use a bamboo mat to roll up your maki more easily. - For even more texture, you can also leave the skin of the pears, according to your wishes.
Recipe made by @BeautyFood Cooking for Perl'Amande
LES PRODUITS PERL'AMANDE
UTILISÉS DANS LA RECETTE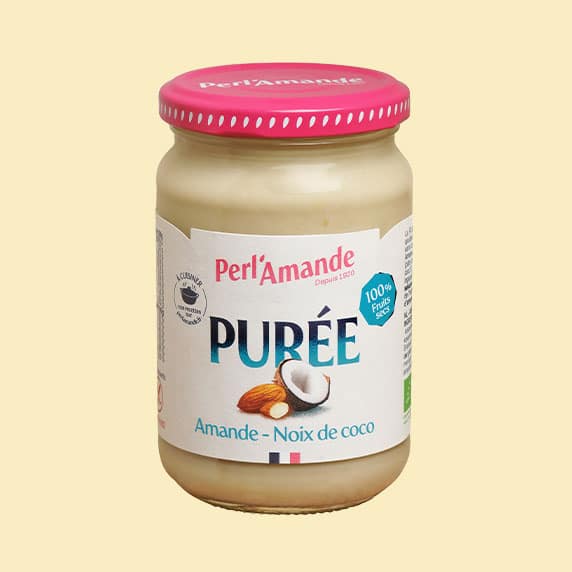 Butter
Almond - Coconut