diner / Plat / Bio / Vegan / Végétarien
Carrot Dip
0 person likes this recipe persons like this recipe
Preparation tips
8 carrots
2 garlic cloves
1 lemon
50 g green lentils
2 tsp hazelnut raw butter
1 tsp paprika
1 tsp cumin
1/2 tsp pepper
1/2 tsp salt with herbs
Olive oil
Cold water
Topping :
Fresh parsley
Black sesame seeds
Espelette pepper powder
Fresh crushed hazelnut
Flat bread
Preheat the oven to 180 °
Wash and cut off the ends of the carrots.
Place them with the garlic cloves on a rack with baking paper and sprinkle with olive oil, salt and pepper.
Put in the oven for 30 to 40 minutes.
Meanwhile, cook the lentils in boiling water for 25 minutes. Drain and reserve.
Mix the roasted carrots with the garlic, cooked lentils, lemon juice, cumin, paprika,  hazelnut butter, salt & pepper.
Thin with water and 1 tbsp of olive oil.
Blend until you get the desired texture (with or without chunks depending on your taste).
Let to cool in a cool place then serve in a bowl, sprinkling with fresh parsley, sesame seeds, chilli flakes and fresh crushed hazelnuts.
PERL'AMANDE PRODUCTS
USED IN THIS RECIPE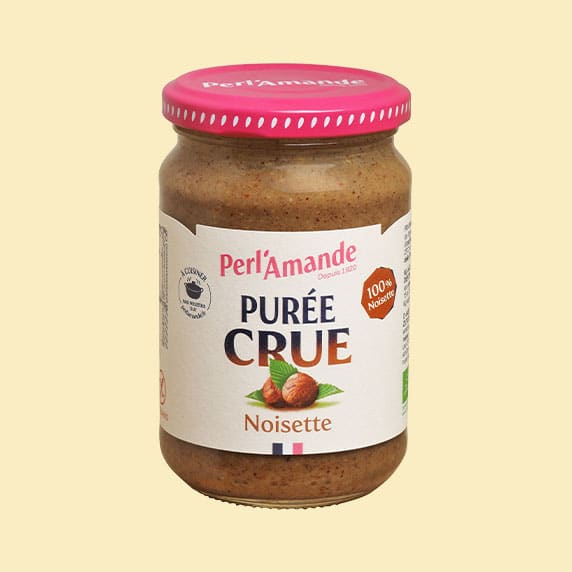 Raw Butter
Hazelnut