Goûter / petit dejeuner / Végétarien
Strawberry pistachio and white chocolate cookies
0 person likes this recipe persons like this recipe
Preparation tips
• 100 g of butter
• 100 g cane sugar
• 230 g flour
• 60 g pistachio raw butter + 20 g for topping
• 1 egg
• 1 pinch of salt
• 4 g baking powder
• 100 g white chocolate
• 40 g de no salted pistachios
• 100 g strawberries
For strawberry spread :
• 125 g strawberries
• Few goutte of lemon juice
• 10 g sugar
• 2 g pectin
THERMOMIX RECIPE
1. Preheat your oven to 165°C

2. Put in the bowl of the Thermomix, butter, sugar, flour,  pistachio butter, egg, salt, baking powder and mix 20 Sec / Speed ​​5.

3. Add white chocolate and pistachios, mix 5 Sec / Speed ​​5 . You can blend longer if you find chips are too big.

4. Form about ten balls and put on baking paper

5. Flatten them and bake during 13 minutes. You can make it with small pastry circles.

6. After 8 minutes, place a few slices of strawberries and continue cooking for 5 minutes.
Preparation of the strawberry confit:
1. In the clean bowl, put the 15 g of strawberries with a few drops of lemon. Mix 10 sec / Speed ​​10. Scrape the sides of the bowl with the spatula.

2. Add pectin and sugar, cook 5 min / 100°C / Speed ​​1.

3. Pour the strawberry confit into a bowl and let it cool.
Cookie finishes: Place a spoonful of spread on each cookie, then a teaspoon of pistachio butter and finally strawberries. 
PERL'AMANDE PRODUCTS
USED IN THIS RECIPE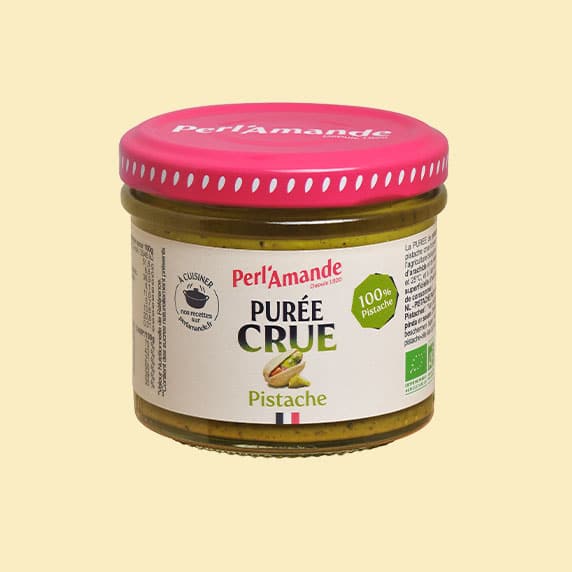 Raw Butter
Pistachio